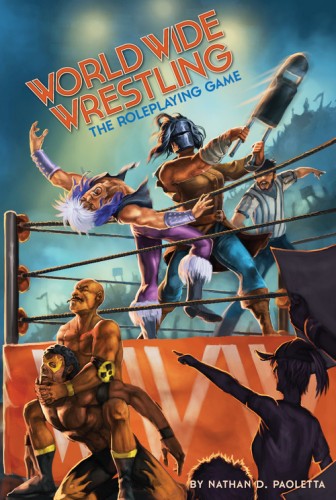 Tags: cinematic
The World Wide Wrestling Roleplaying Game enables you to create your own professional wrestling franchise through play, showcasing satisfying and surprising storylines. It's about feuds, championships, betrayal, and righteous victory. It's about the clash of good and evil on the grandest stage. It's about whether you've got what it takes. And, in the end, it's about what the audience thinks of your efforts.
"It's a wrestling game made by a fan…designed to help you create a new mythology." - Caitie Belle
"It's a lovingly, considerately designed game that doesn't ask you to bring much to the table other than a few opponents to body slam through the table. Compared to past wrestling games, World Wide Wrestling gets a leg up on the competition and then…deliver(s) a (leg) drop straight to the dome." - Jon Bolding, Shut Up and Sit Down
Find this game at ndpdesign.
Supplement