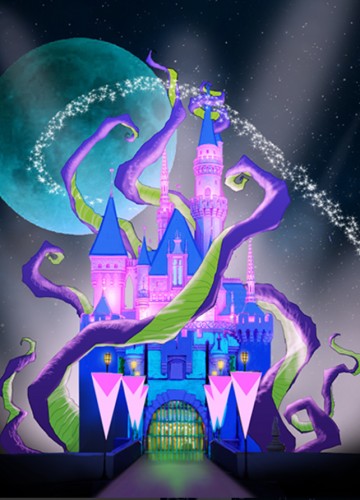 Tags: crowdfunding, fairy tale, horror, post-apocalyptic
Hello, everyone! Welcome aboard the Mouse and Friends Tram. Please lower your head and watch your step while boarding, and disregard the souls of the damned that may still be clinging to the sides. Please place young children toward the inside of the tram, unless you are offering the child as a sacrifice to the Great Mouse. Children may not ride in strollers. As a courtesy to other passengers, we ask that there be no eating, drinking, smoking or bloodletting on board. In just a few moments, we will begin our trip to the Mouse Park Main Entrance. For your safety, remain seated with the doors closed—keeping your hands, arms, feet, and legs inside while the tram is moving or risk getting pulled into the darkness of the void of the deep beyond.
We are now approaching the Mouse Park entrance. On behalf of all our cast members and the Great Mouse, who shall rise only when his apocalyptic appetites are not satiated with life force, blood, and shadow, we are pleased that you have joined us today.
Enjoy your stay at Mouse Park. Driver, you are clear.
Find this game at Kickstarter.