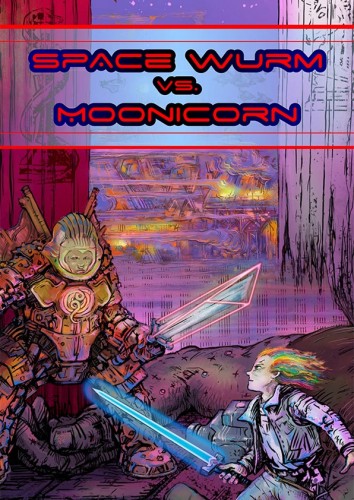 Tags: Dungeon World, supplement, sword and planet
Space Wurm vs. Moonicorn is a science fantasy supplement for Dungeon World that combines the flavours of Johnstone's Adventures on Dungeon Planet and the characters from Jackson Tegu's Monsterhearts expansion, the Second Skins, into 368 full colour digest-sized pages, with dozens of illustrations, including art by Chiara Di Francia, George Cotronis, Iolanda Zanfardino, Jakub Rebelka, James Fenner, Jon Cairns, Nate Marcel, and Taylor Winder.
In Space Wurm vs. Moonicorn, Jackson's Second Skins take to the stars in an epic tale of adventure, romance, and rivalry. Surrounded by devoted friends and perfidious foes, Space Wurm and Moonicorn wrestle for control over the fate of the galaxy. The future is in your hands. How will it end, and what will it cost you? Whose side are you on?
Find this game at DriveThruRPG.