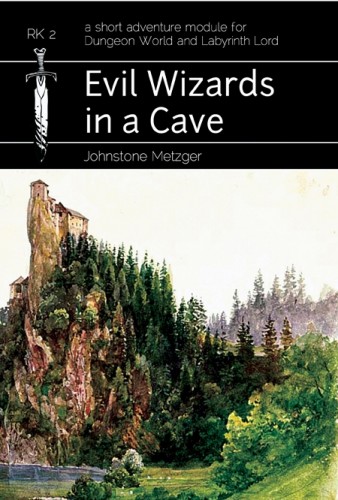 Tags: Dungeon World, fantasy, supplement
Evil Wizards in a Cave is a short adventure module compatible with both the Dungeon World and Labyrinth Lord fantasy role-playing games.
The Tellurine Monastery has a serious problem—a band of evil wizards have stolen their holiest relic, the helmet of Saint Anglard, and fled. The abbot believes they are hiding out in one of the region's many caves, judging by the recent increase in weird occurrences. But can he find a group of adventurous mercenaries who won't be distracted? This sandbox adventure offers more than just a quest! Dragons prowl the valley, a beastman is on the loose, and there are tales of a haunted house up in the mountains somewhere, full of treasure. What sort of trouble will you get up to here?
Find this game at DriveThruRPG.