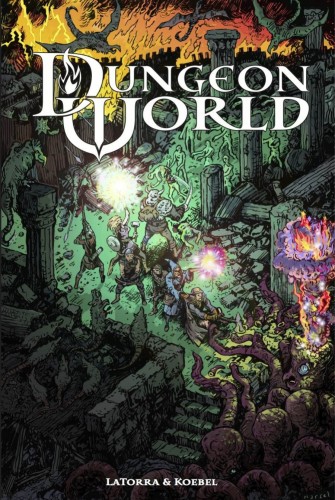 Tags: Dungeon World, fantasy
Dungeon World is a tabletop roleplaying game. Gather some friends and embark on adventure. Play to find out what happens.
Classic Fantasy Adventure
Explore a land of magic and danger in the roles of adventurers searching for fame, gold, and glory. Delve into goblin holes or chance a dragon's lair. Dungeon World takes classic fantasy and approaches it with new rules.
Find this game at Dungeon World.
Supplements
• 20 Dungeon Starters by Mark Tygart, Marshall Miller
• Adventures on Dungeon Planet by Johnstone Metzger
• Battle Between the Worlds by Johnstone Metzger
• A Book of Beasts by Jason Lutes
• Class Warfare by Johnstone Metzger
• The Cold Ruins of Lastlife by Brendan Conway
• Evil Wizards in a Cave by Johnstone Metzger
• Freebooters on the Frontier by Jason Lutes
• Funnel World by Jason Lutes
• Ghostwood Haunts by Johnstone Metzger
• Grim Portents 1: Dead of Winter & Grim Portents 2: The Wine-Dark Sea by Chris Sakkas (ed)
• Inverse World by Brandon Schmelz, Jacob Randolph
• Island of Fire Mountain by Johnstone Metzger
• Juntu's Floating Ice Hell by Jason Morningstar, Marshall Miller
• Knives in the Dark by Johnstone Metzger
• Lair of the Unknown by Johnstone Metzger
• A Market in the Woods by Johnstone Metzger, Nathan Jones
• Perilous Deeps by Adam Koebel, Claytonian, Jason Lutes, Jeremy Strandberg, Joe Banner, Johnstone Metzger
• The Perilous Wilds by Jason Lutes, Jeremy Strandberg
• Plague of Storms by Chris Longhurst
• The Planarch Codex by J. Walton
• SexyTime Adventures by Anna Kreider
• Space Wurm vs. Moonicorn by Johnstone Metzger
• Steam World by B. Wraven Wright
• A Sundered World by David Guyll, Melissa Fisher
• Terrors of the Ancient World by Johnstone Metzger, Nathan Jones
• The Third Verse by Johnstone Metzger, Tony Dowler
• Truncheon World by Sage LaTorra, Adam Koebel
• Wizard-Spawned Insanities by Johnstone Metzger, Nathan Jones