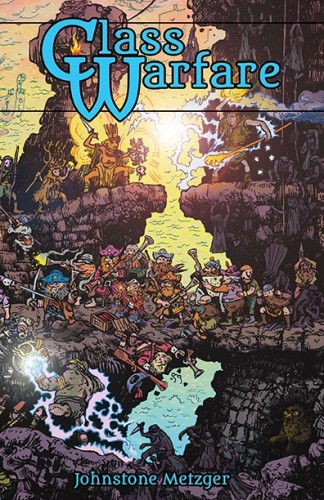 Tags: Dungeon World, fantasy, supplement
Class Warfare is a rules supplement for the Dungeon World role-playing game that provides an alternate and expanded system of character creation. It can also be used to create new character classes, just like those provided in the original rulebook. How Class Warfare does this is by breaking down the Dungeon World character class into smaller pieces—like specialties and archetypes—and showing you how they fit together.
Specialties
A specialty is a collection of special abilities that describe one facet of what makes a character's interaction with the rules of the game unique. Think of it as a shtick, perhaps, or a set of skills, even. Each specialty is approximately one-third of a normal Dungeon World character or character class. The Ranger, for example, is an archer, a hunter, and someone who has an animal companion—three special abilities. In Class Warfare terms, each of those is a specialty.
Archetypes
Each specialty is categorized into one of five different groups, called archetypes. These are general character "types," that include: adventurer, disciple, magician, rogue, and warrior. Your archetype helps determine your damage die and your maximum hit points, and puts a few limits on which specialties you can combine together.
Basically, it means that if you focus on combat-oriented specialties, you end up with high damage and high hit points, which makes fighting an attractive option for you to take. If you focus on magical powers, you're much less good at delivering blows or shrugging them off, even just using the basic moves. This encourages you to use your magic and stay out of fights.
Building a Character
You create a starting character by choosing an archetype and two or three specialties. But specialties can also be used as compendium classes, so there are ways to learn new abilities outside your original character concept if you undertake certain quests or perform certain feats. You are not limited only to the choices you made during character creation.
A World of Options
Each of the five archetypes in Class Warfare has between 14 and 21 specialties to choose from, which can also be used as compendium classes. Or loot the moves for your own new classes. Class Warfare is a giant toolbox geared toward one thing and one thing only: awesome characters for your Dungeon World game!
Find this game at DriveThruRPG.