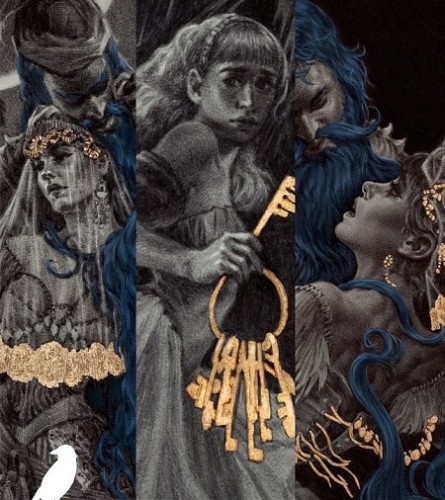 Tags: fairy tale, horror, literary, pre-order
The Bluebeard fairy tale is simple enough: A young bride is wed to an ugly, but powerful man with a blue beard. On their wedding night he must attend to other urgent matters. He gives her the keys to every room, inviting her to explore… but one room in his house is forbidden. The bride eventually falls prey to her curiosity and opens it, discovering the gruesome sight of former brides who had been murdered… evidence that reveals her husband to be a killer of women.
When you play Bluebeard's Bride, you aren't repeating the dark events of that morbid tale. You're following the skeleton of that story to tell a new one covered in your own bloody fingerprints. The Bride's story is unpredictable and engaging, leading her down a dark path to an unknown future. Your fate, the terrible contents of the final room, may not yet be fixed, but every step you take moves you closer to your doom.
Your experiences in Bluebeard's house are guided by the original fairy tale, a framework that ties your story to the many tellings of the Bluebeard myth—past, present, and future. You move from room to room, gathering tokens and encountering horrors, before eventually making your way to the final room—and sealing the Bride's fate forever. And along the way, questions arise…
What will you find in your new husband's house?
What horrors will haunt you?
What darkness will you find within yourself?
But in the end, there is only one question for a new Bride: will you open the final door?
Find this game at Kickstarter.