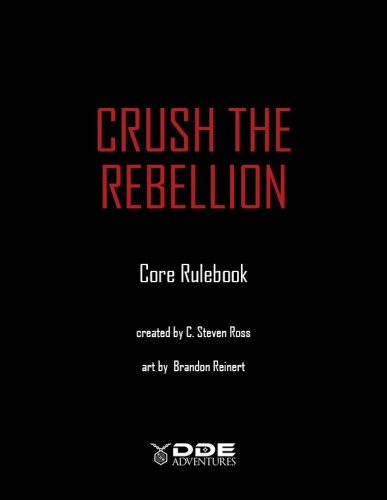 Tags: fantasy, science fiction
A fast-paced roleplaying game of competing agents struggling to fulfill their own personal agendas in a hostile, bureaucratic nightmare futuristic fantasy universe.
CRUSH the REBELLION is a structured storytelling game with an emphasis on competitive world-building.
The actions of the players all contribute towards a shared history together, set in the fictional game universe. However, Crush the Rebellion is also a strategic, competitive game between the players. There are winners and losers to this game.
The universe of Crush the Rebellion is grim, dark, and hateful. It is a futuristic fantasy setting, full of both awe-inspiring technological prowess and ancient mysticism.
A central dogmatic figure known only as The Emperor rules over the whole of Humanity. The Human Empire spans across an untold number of galaxies. The true size of The Human Empire is difficult to even comprehend, supported by the most byzantine, Kafka-esque bureaucracy of all existence. It rules through fear and intimidation, using unlimited resources to oppress the unruly masses of civilization who dare challenge The Emperor's infinite wisdom.
The Emperor uses an elite cadre of specialized agents (the players) to lead missions against His enemies, crushing any rebellion. Unfortunately for The Emperor, these agents are highly ambitious and treacherous, subverting and abusing their Emperor-given powers to further their secret objectives.
Find this game at DriveThruRPG.